Leather Keyrings
Leather Key Tags are an excellent way to promote your business once we print or engrave them with your logo
100 min qty
Unlock advertising potential with Personalised Sueded Leatherette Keyrings.
100 min qty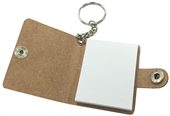 Sloan Note Pads are designed with a keyring attachment.
100 min qty
Our custom branded leather keyrings are high quality promotional products that any executive would be happy to accept. Leather keychains make great corporate gift ideas that are sure to impress. Everyone uses a set of keys and our stylish leather key rings is the perfect addition to style up a key set while ensuring you have an effective means of promoting your company.
Take the time to browse our excellent range of keyrings and no doubt you will fulfil your client's requirements. If leather isn't your choice then I'm sure you will find a key ring in our huge collection of stainless steel keyrings.