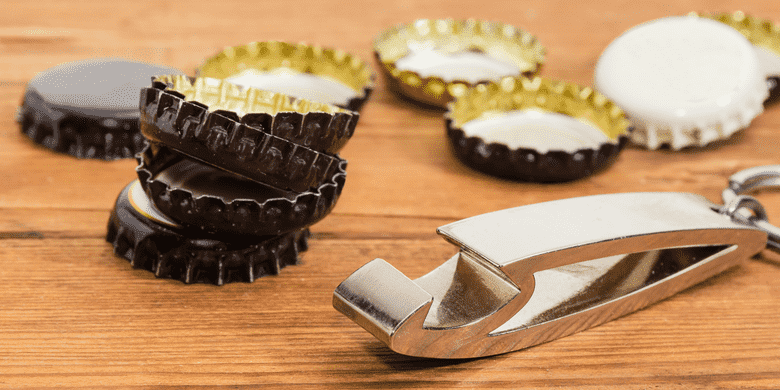 9 February, 2022
Use Promotional Bottle Opener Keyrings To Increase Sales
Promotional bottle opener keyrings might not sound like the sexiest thing to have in your marketing arsenal, but they are extremely effective when it comes to promotional items and tick all the boxes. One of the primary objectives of any promotional item is usage. You don't want to give people something they are just going to throw into a draw and forget, or worse; they throw it away. That's where a bottle opener keyring comes in. They are a versatile, multi-function item that can be used in many ways.
Not only will they open bottles, but the "O" ring means people can also add their keyrings. Quite a few also have other little gadgets such as a can opener. They are small, so people can put them in their pockets or ladies can put them in their purses, and they are very cost-effective. They can be used to promote a multitude of different specific business markets, and they are a great way to get your brand and message out to the market in an exciting way. Below are some of the business markets that could benefit from this small yet powerful promotional tool.
Bars & Pubs
A custom branded bottle opener keyring is the perfect way for bars and pubs to advertise their business. Maybe set up a premium signature cocktail and hand one out with each one ordered, or perhaps have a wine of the month, and with each bottle ordered, they receive a bottle opener keyring.
Breweries & Distilleries
If you have a brewery or distillery, no doubt you offer guided tours to people who come by. Wouldn't it be great to give them a keepsake that will remind them of your brewery for later on? It could prompt them to buy your beverage the next time they go to the bottle shop or supermarket. If not for the tour, you could offer them as a free gift with purchase when people buy your product after the tour.
Sports Teams
Get everyone on board and cheer for the local sports team with bottle opener keyrings. You can offer them as part of a membership pack which can also act as a souvenir for the fans. Maybe when you win that successive premiership, they could be a commemorative item to celebrate the win or use them as raffle prizes for people as they come through the gates to watch the local game.
Gift & Souvenir Shops
Many bottle opener keyrings can now be printed in full colour, making great gifts to sell at gift or souvenir shops. The full-colour printing means you can get creative with images of landmarks or other identifiable places in the region. These make great keepsakes for visitors and are practical items that add to their sale appeal.
There are lots of ways to use this handy little promotional item. If you need advice on what would work best for your promotion, we are only a call or email away, otherwise enjoy browsing our comprehensive section and place your order online.
The Keyrings Only Team